A Revolution in Youth Mental Health Care
Growing up has never been easy. But increasingly, kids and youth have been facing a mental health crisis. Between 2011 and 2018, the number of young people reporting poor mental health jumped from 4.2% to 9.9%, and during the COVID-19 pandemic, rates of depression and anxiety in children and adolescents doubled.1,2 Health service providers have been struggling to keep up with such a steep increase in demand. As a result, it's not uncommon for youth and their families to be faced with months (or even years) of waiting before they can get help. 
Nobody should have to go without mental health care. Kids Help Phone3 — a well-established e-mental health service — is one of the most promising tools we have to address this emergency, helping to ensure that every young person is able to access support when they need it. At time of this publication, Kids Help Phone has supported youth over 16 million times since the start of the pandemic. On top of connecting users to professional counsellors and trained volunteer crisis responders, Kids Help Phone's website is home to a Peer-to-Peer Community and hosts hundreds of articles, quizzes, activities, videos and tools to help youth understand whatever it is they're going through and learn coping skills they can take with them anywhere. 
Kids Help Phone engaged The Decision Lab to reimagine the experience of accessing mental health support through their website. We led the redesign from inception to launch, including intensive research with hundreds of youth from across Canada. The TDL team also interviewed Kids Help Phone staff from across the organization (from volunteer crisis responders, to service innovation specialists, to the donor relations team), analyzed web analytics, and audited their existing website.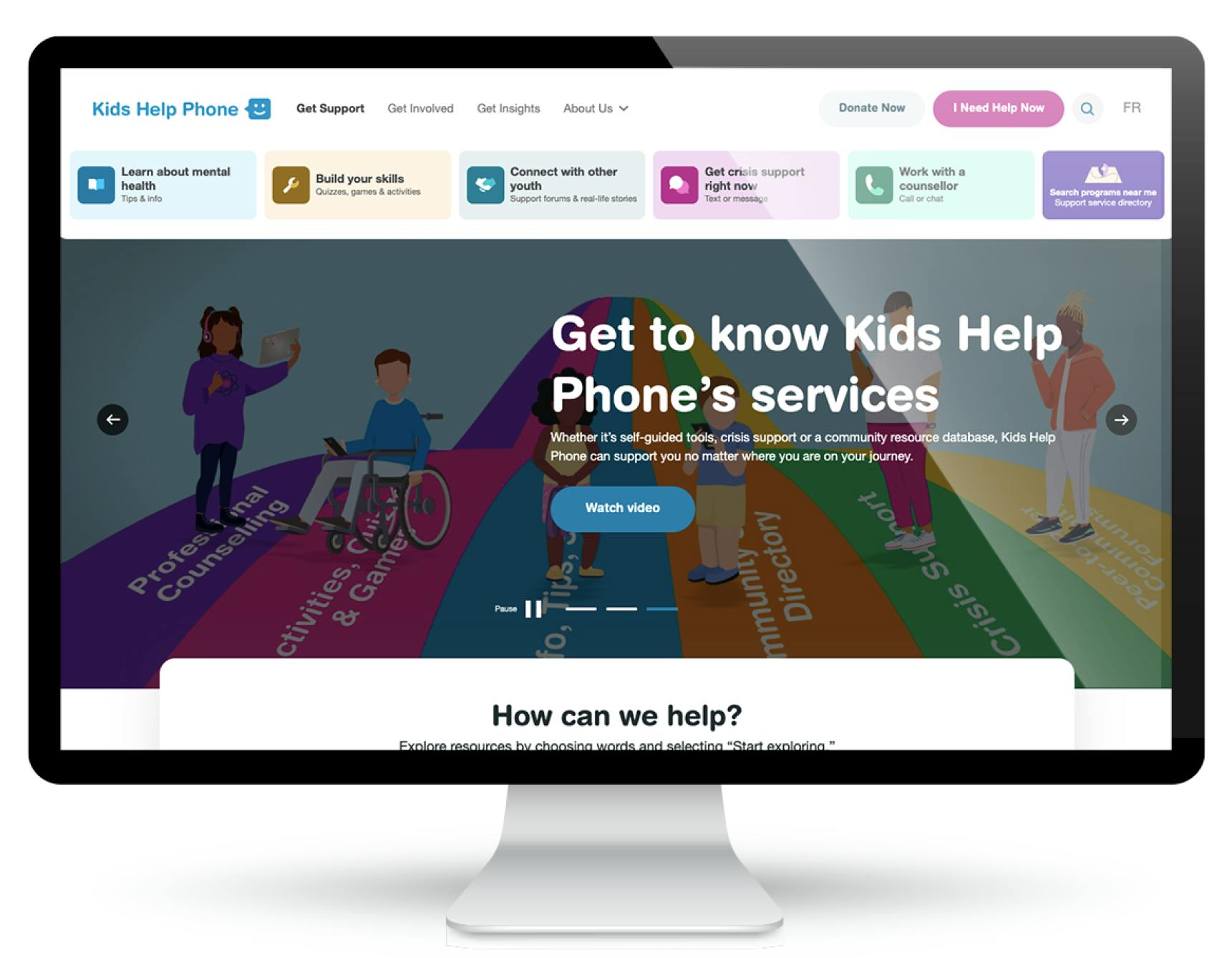 Through the course of this collaboration, we transformed the website into an innovative new way for youth to access support. Painstakingly designed based on mountains of data, the gateway represents the next evolution of digital mental health care, combining behavioral science, data analytics, and user-centered design at an unprecedented scale.  
Empowering youth by digitizing autonomy in mental health care
With millions of youth visiting the Kids Help Phone website each year, all with different backgrounds, needs, and lived experiences, the platform has to strike a difficult balance: Making sure that users have access to an immense amount of information, at different levels of support, while ensuring that this information is still effortlessly navigable — even to a young person in distress. 
Another opportunity was to support a diverse user base. The gateway serves a vast audience, encompassing everyone from elementary school–aged kids, to young adults; from newcomers to Canada, to Indigenous youth. Visitors hail from every corner of the country, and hold different understandings of what they're going through, not to mention different lived experiences, different priorities, different needs, different feelings. The website also serves more people than just youth looking for support: it's also a resource for caring adults (such as parents or caregivers of those youth), and for anyone who wants to know how they can help somebody else in their life through a difficult time.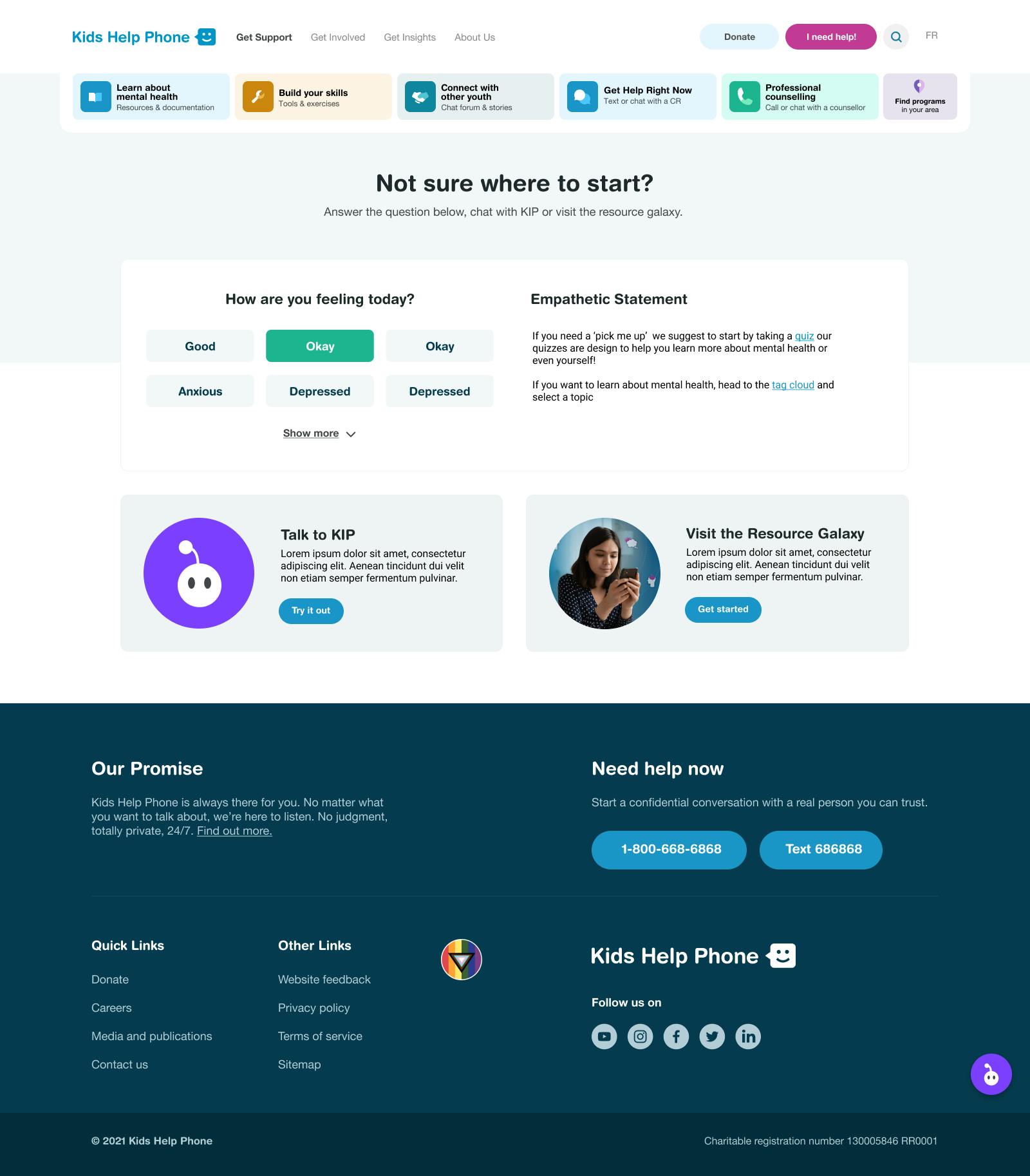 TDL's task was to design a platform that made all of these people feel seen, heard, and welcome — to empower youth to decide their own paths. This meant designing a refreshed user journey, centered on education and autonomy. In addition to providing users with all the tools they need to make informed decisions about their situation, the updated gateway would also make it as easy as possible to navigate within topics, find related topics and switch between services to find the supports that are best for them at that time. 
This project was grounded in the principles of Stepped Care, an approach that emphasizes the importance of ensuring that users have full autonomy in determining what type of services and resources they want to use, and when. The task was to apply Kids Help Phone's stepped care model of support to their website. Every choice we made throughout the design process was in the interest of increasing user autonomy to step "up" or "down" between different intensities of support, types of services, and so on. The revamped gateway is an all-in-one mental health hub that gives youth the tools to build their mental health literacy, practice invaluable skills, and decide what actions are right for them.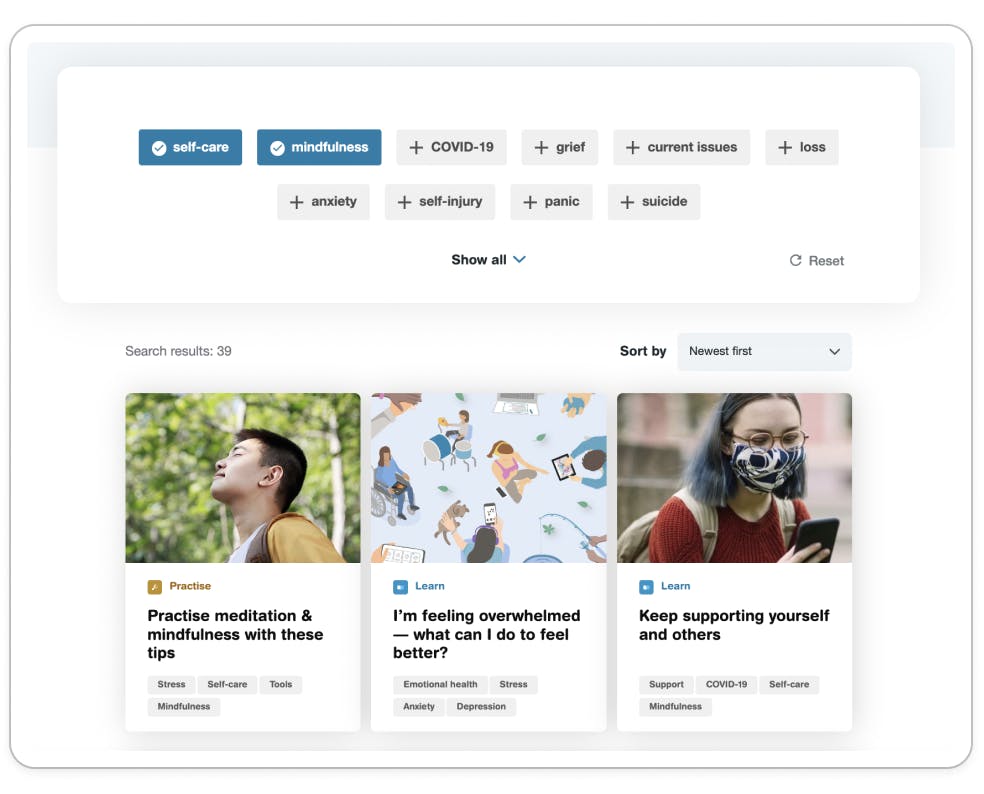 Personalizing the youth mental health journey
Everyone is young at some point — but as adults, we sometimes oversimplify the youth experience. It's no surprise that many of our research participants reported feeling misunderstood in their previous attempts to seek support for their mental health.
Young people in crisis reported wanting to feel heard. They want to see the richness of their experiences reflected back at them, and to talk to people who understand. They want to be connected with supports that speak to their unique situation, without minimizing or caricaturing what they're going through.
"Online services can be improved by making it more accessible and welcoming . . . by making the website more easier to navigate [to] resources, strategies or connect to support." — Youth research participant
The new gateway takes aim at these barriers by providing a more personalized, empathetic user experience. Features like the tag cloud let users filter through resources easily and quickly, so they can find what they're looking for within a few seconds of arriving on the site. In the new navbar, service tiles pave the way to each of the different types of support Kids Help Phone has on offer, organized along the Stepped Care continuum: educational resources, activities to help youth build their skills, peer-supported communities, and more.
Throughout the gateway, interactive tools invite users to submit their feedback on each resource they view, and then provide personalized recommendations based on what they have to say. Features like this empower young people to take ownership of their journey and have their voices heard, while also nudging them toward the best support available for them.
But not all visitors to Kids Help Phone's website are in a position to peruse all of the resources available to them. Some arrive seeking emergency help. We realized that it was crucial to make sure that youth in crisis had as direct a path as possible to the help that they needed. To guide their way, we installed new features like the I Need Help Now button that now appears in the corner of every page. 
Taking the next step together
The updated design bridges all the different corners of the Kids Help Phone ecosystem together: if a user starts out reading an article and ends up feeling like they need more help, they have multiple pathways to more involved options, including peer support, professional counseling, and more. Signposting all these potential routes helps every user end up in the place where they're most comfortable, and that they're always able to step "up" or "down" to more or less intensive options, if they need them. 
The launch of the new gateway had an immediate effect on how users engaged with Kids Help Phone: after the launch, visitors stayed on the site 29% longer, visiting 23% more pages. Once the changes launched, users were more likely to return to the gateway a second time, and visitors who use the updated service menu stayed on the site for an extra 5–6 minutes. The new gateway is also helping youth in crisis find the support they need, fast: the urgent help button is one of the most visited pages on the site.
The refreshed platform is helping hundreds of thousands of young people each month — a safe space for youth trying to navigate a chaotic and turbulent world. 
"Sometimes, one of the most difficult parts of accessing support for young people is the start." — Youth research participant
References
Wiens, K., Bhattarai, A., Pedram, P., Dores, A., Williams, J., Bulloch, A., & Patten, S. (2020). A growing need for youth mental health services in Canada: examining trends in youth mental health from 2011 to 2018. Epidemiology and Psychiatric Sciences, 29. https://doi.org/10.1017/s2045796020000281 
Stanton, K., & Little, S. (2022, January 22). Two years into pandemic, effects of COVID-19 on youth mental health a growing concern. Global News. https://globalnews.ca/news/8531246/two-years-into-pandemic-effects-of-covid-19-on-youth-mental-health-a-growing-concern/ 
Get support with these mental health resources. (2022, June 1). Kids Help Phone. https://kidshelpphone.ca/