A TDL PUBLICATION
The End of the 5-Day Workweek?
February 2022
As I write this, it is Thursday — but only in name. Emotionally, it is the Fridayest Thursday that I have ever Thursdayed. On some level, I've clearly got it in my head that the workweek ends after day 4.1
This makes sense: lately, we can't seem to stop talking about the 4-day workweek. It seems to be constantly trending on LinkedIn, it's occupying headlines in major news outlets, and it's the subject of a growing pile of research. This tsunami of coverage most often promises that shorter weeks deliver major boosts to employee happiness and wellbeing, and with minimal losses for employers.
But is the shorter week really the panacea it's made out to be? What does all the research really say? And if we're stuck working Fridays for the time being, what can we take away from this conversation to make our working lives better right now? Read on to find out.
Until next time,
Katie and the team @ TDL

[1] My bosses, if they are reading this, should be aware that I am exaggerating slightly, and I still work plenty hard on Fridays.
1. How popular is the 4-day week?
Workers want a 3-day weekend. Research has found that as many as many as 87% of Americans would prefer a 4-day workweek — even if meant they'd need to work longer hours each day. However, opinions vary across worker demographics, with women, older workers, and suburbanites being most keen on a shorter week.

Most employers aren't so keen. Unsurprisingly, the idea of a 4-day workweek is a harder sell among business leaders. As of January 2022, a study of data from the online job board Indeed.com found only 12 of 10,000 listings analyzed contained keywords related to a 4-day workweek.

Major companies are starting to experiment with shorter weeks. While it may still be on the fringe, the 4-day workweek isn't purely theoretical — and some of the employers who have given it a go are multinational corporations. In Japan, where employees work notoriously long hours,

Panasonic

and

Microsoft

have both experimented with 4-day workweeks.
2. Does the hype hold up? Mostly
4-day weeks can deliver big benefits without sacrificing productivity. When Icelandic government workers switched to a 35- or 36-hour workweek (down from 40), researchers found it improved their health and work-life balance while lowering rates of stress and burnout. The kicker: productivity either stayed the same or improved. That being said…
Slashing schedules can detract from workplace culture. Shorter weeks mean packing more work into less time, and that can be intense. At one startup, 40% of employees reported feeling more stressed after implementing a shortened week, even though 94% still voted to keep it in place. This added pressure also leaves less time for good old human interaction (remember human interaction? Nostalgic sigh).
Shorter weeks won't make your job fun. A Gallup study found that Americans who worked 4 days a week reported the highest rates of thriving wellbeing — but were also more likely to be "actively disengaged" from their jobs. In other words, implementing a shorter week won't automatically make people feel more positive about their work. Instead, it just gives them more time to spend on other spheres of life that do spark joy.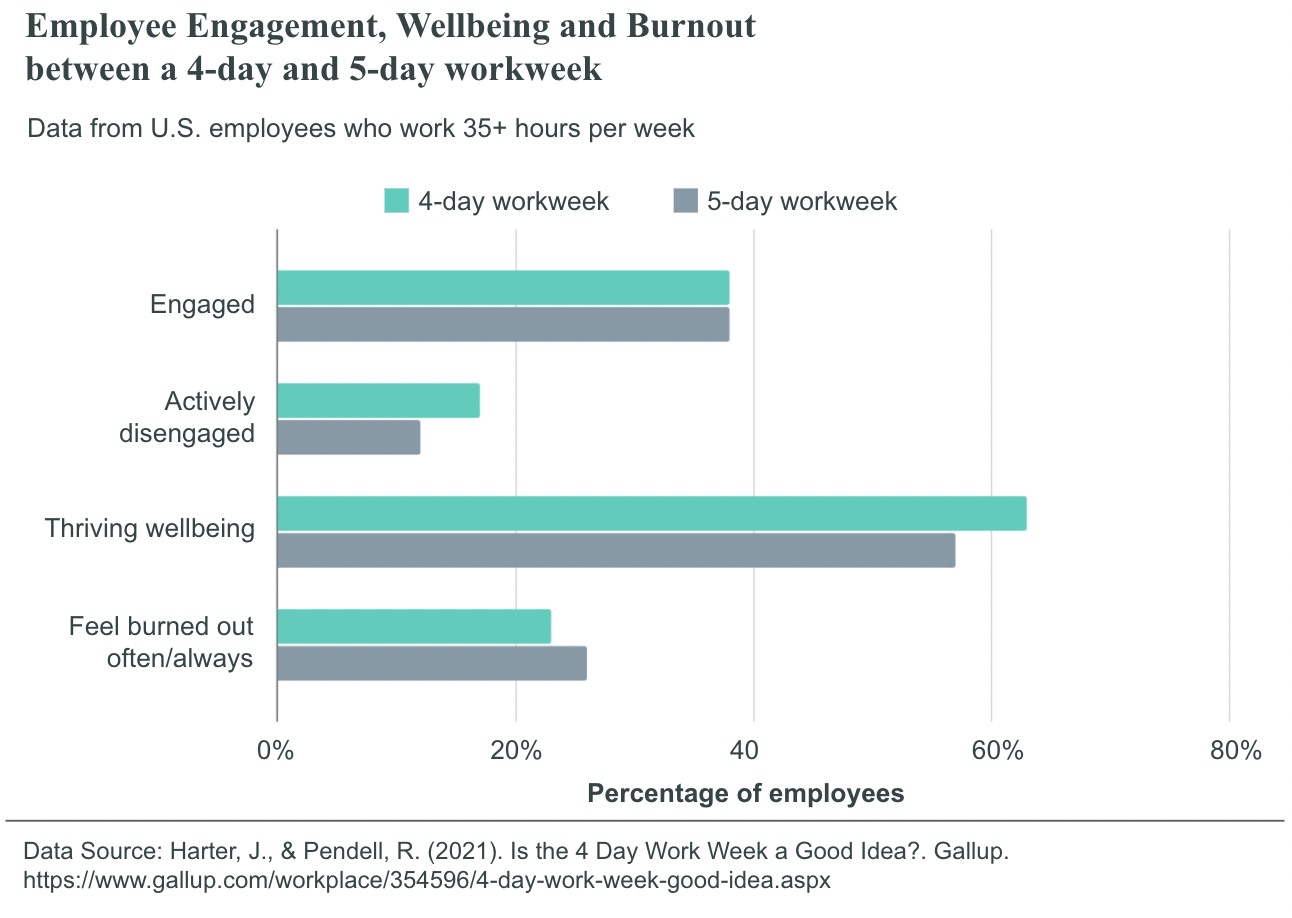 Working hours matter, but so does flexibility. Like shorter schedules, flexible job arrangements are also linked to improved wellbeing — but without hurting engagement. When workers are given more freedom to decide when and where they work, they become more engaged with what they're doing, and that engagement leads to better performance. When we focus exclusively on the number of hours we work, we may lose sight of these important considerations.
Our brains might be suited to shorter days. Surveys have found that the average office worker is only really focused for about 3 hours a day. This suggests that rather than cutting down the length of the workweek, we may do better to experiment with 5- or 6-hour days: 3 hours of deep work, and 2–3 more for meetings, emails, and other tasks that eat up less cognitive bandwidth.
Every workplace is different. There's no single schedule or approach to working hours that will be equally successful across all industries, cultures, and employee demographics. Organizations considering a new policy on working hours should be prepared to iterate: run a pilot, assess the results, and then scale up, continuously checking in with employees and making tweaks as needed.
3. Opportunities in Behavioral Science
The Decision Lab is hiring a Senior UX Designer!
We're currently looking for an experienced designer to join our team. If you're passionate about the behavioral sciences and genuinely curious about how they can be applied to create impact through digital products, you may be a fit! Click the link above to view the posting. (This role is based in Montreal.)
Interested in having your voice heard? Join us on our mission to change the world through better decision-making. We're interested in articles that get us thinking about human behavior so we can better understand why we do what we do. To learn more, visit our content submissions page.
We would love to hear about how we're doing and what you would like to see from us. How can we help you use behavioral science to make an impact in your role? To give us feedback, simply reply to this email. We look forward to hearing from you.
| | | |
| --- | --- | --- |
| | Eager to know how behavioral science can help your organization? | |
| Did someone share this newsletter with you? | | |
| --- | --- | --- |