Shifting Paradigms: How behavioral science can help financial services leaders build more resilient businesses in the face of new regulations
The overall goal of our dedicated FCA brief (see below) is to provide a high-level look at the road ahead and to give firms a sense of how they can tackle this seismic shift in their industry. We hope that it will inspire industry leaders to go beyond compliance: to capitalize on this moment as a chance to innovate and deepen the value they create for consumers. 
Financial decisions are some of the most fraught and complex choices we make. For many of us, these decisions are immensely stressful: they force us to weigh long-term concerns with short-term gains (not our strong suit), and they require us to grapple with probabilities and risk. In short, financial decision-making is the perfect storm for cognitive biases to emerge — biases that not even financial professionals are immune to. 
These behavioral dynamics leave consumers much more vulnerable to unfair practices in the financial sector than they are elsewhere. In light of this, the UK's Financial Conduct Authority (FCA) recently announced a new "Consumer Duty," significantly raising the bar for the standard of care that firms provide to consumers.
What does the FCA Consumer Duty mean for firms?
The new FCA Consumer Duty is nothing short of a paradigm shift. It will drastically reshape the way firms interact with customers, as well as how they design and market products and services.
Come July 2023, consumer interests will no longer be a secondary consideration; they will be front and centre in every decision that firms make. This will have major implications for business and culture at UK financial organizations.
The Consumer Duty introduces three cross-cutting rules that impact four key outcomes: (i) product and service outcome, (ii) price and value outcome, (iii) consumer understanding outcome, and (iv) consumer support outcome, nudging firms to rethink the consumer impact along their entire value chain. 
The Consumer Duty will usher in a new age of behavioural finance in the UK — and after years of helping firms incorporate behavioural insights into their work, TDL is well acquainted with the unique challenges this process entails.
Read the full report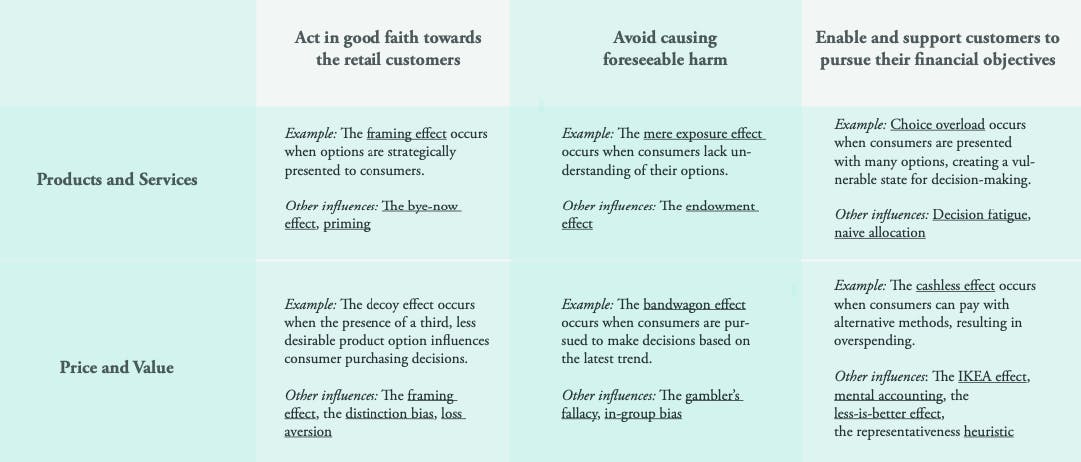 Read More
This page contains a preview of a TDL Industry Report. If you would like to read the full report, you can download it for free below.
If you are working in the financial sphere and would like to speak with one of our experts, get in touch!
About TDL
The Decision Lab is a socially-conscious applied research firm. We provide consulting services to some of the largest organizations in the world, carry out research in priority areas and run one of the largest publications in applied behavioral science.
In the past, we have helped organizations such as the Gates Foundation, Capital One and the World Bank solve some of their thorniest problems using scientific thinking. Get in touch to learn more!